Seven wanted in NW DC sexual assault and kidnapping | News
WASHINGTON (WUSA9) -- At least seven people were involved in the sexual assault and kidnapping of a man in Columbia Heights, according to D.C. police.
Police say that on July 31 at around 8:00 p.m. near 14th Street NW and Parkwood Place NW, an adult man was approached by a suspect, forced into a white van at gunpoint and sexually assaulted.
One of the suspects is described by police as a Hispanic male between 6-foot 1-inch and 6-foot 2-inches tall, between 22 to 27 years old, with a slim build and short black curly hair. He was reportedly wearing an orange shirt and gray sweatpants.
Police said another man was described as heavy set, between 17 to 19 years old and with a light complexion.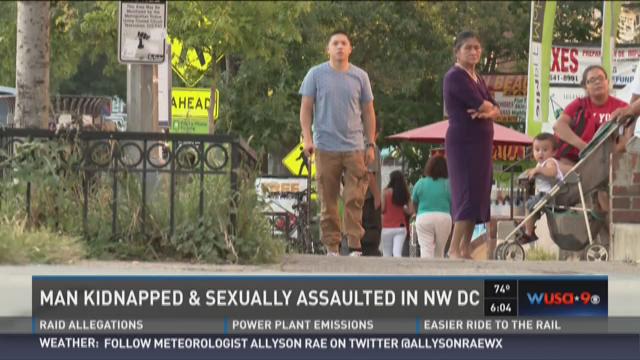 At least five other men with unknown descriptions were also involved, according to police.
Neighbors were shocked to hear about the crime.
"This is crazy to hear. On 14th Street? About this time of day? And nobody sees it? Look at all these people out here. Nobodyseen that? Come on, somebody saw it. They're just scared to be called a snitch or something. It happens that way. This is Washington," Daniel Dyson, a nearby resident said.
Anyone with information is asked to call 202-727-9099. A reward of up to $1,000 is being offered for information that leads to an arrest and conviction.
Like this story? Like WUSA9 on Facebook.
MORE STORIES:
Man drowns at Cove Point Light Station
Wounded Marine finishes ride across America
Frederick man arrested after bar fight